iWnn IME for Android™
Character input technology

Multilingual input system developed for Android™.
No. 1 Commercial IME embedded in Android™ devices in Japan.
Point

1

No. 1 system
embedded in
Android™ Devices
in Japan
Point

2

You can also
integrate with
voice recognition
engines!
Point

3

Predictive conversion
for all
44 languages
What is iWnn IME for Android™?
It is a multilingual input system based on the multilingual input engine iWnn which has been optimized for Android™.
A multilingual input engine offered in Input Method Editor (IME) format with an added software keyboard based on high-performance, multilingual input engine iWnn. Widely used by many manufacturers who develop Android™ devices, it is the No. 1 commercial IME embedded in Japanese domestic smartphones.
Product Features
Feature

1

Predictive conversion based on situational conditions, such as season, time zone, and time (past/future)!

Smart Predictive Conversion and Easy Operability
Status-Adaptive Predictions
You can have optimal prediction candidates shown according to situational conditions such as Season, Time Zone, and Past/Future.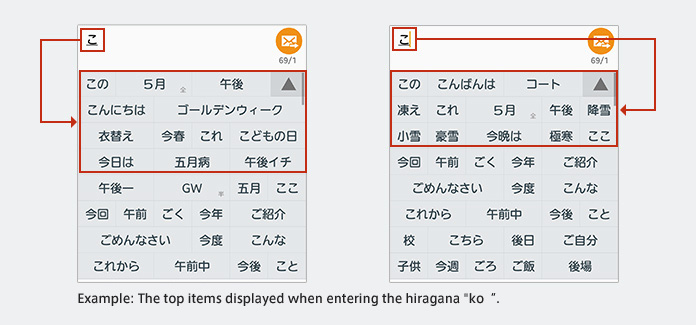 Wildcard Prediction
Once you enter only the beginning of a word, this function enables you to narrow the candidates of the predictive conversion from the remaining length of the word.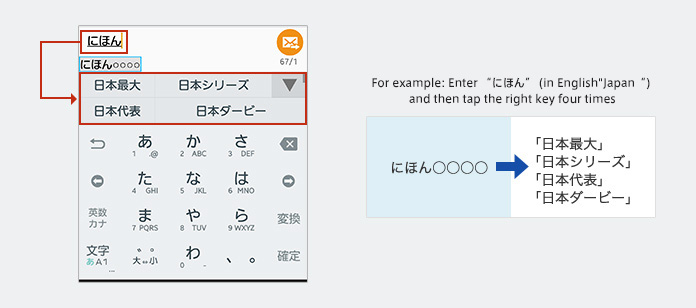 UI Ideal for Smartphones
Provides ease-of-use and a comfortable character input environment specialized to the smartphone experience.
Floating Mode

Slide to Add Sonant marks,
P-sound marks, and Convert Upper/Lowercase

Slide to Switch Character Types

50 Tone Keyboard & Array Selection
Set Keyboard Type for Different modes
A keyboard type can be set for each Screen Aspect and Input Mode.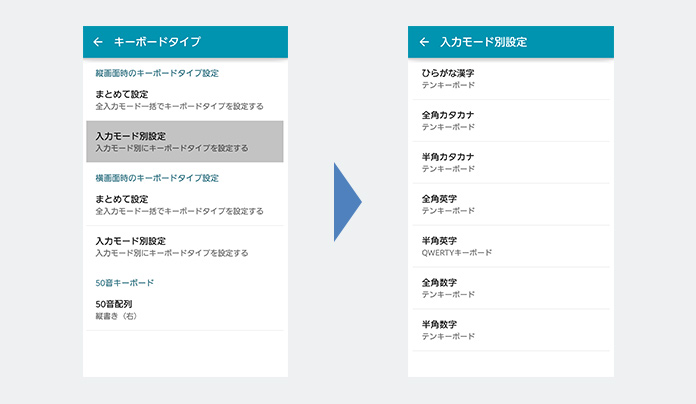 Feature

2

Voice input, works with mushroom plug-ins, added keyboard images

Superior Scalability and External Link Functionality
You can switch to audio input keyboard

Works with mushroom plug-ins

Works with other Web dictionary servers to enable you to add predictive conversion candidates

Dictionary expansion

Additional features of the keyboard image
Feature

3

Supports predictive conversion for 44 languages!

Multilingual
Japanese

Chinese(Simplified)
[PinYin, Stroke]
Chinese(Traditional)
[Pinyin, Bopomofo, Stroke, Cangjie]
Cantonese(Traditional)
[Stroke, Cangjie]

Korean

English(American)

English(British)

Afrikaans

Arabic

Italian

Indonesian

Ukrainian

Estonian

Dutch

Catalan

Greek

Croatian

Swedish

Spanish(Spain)

Spanish(Mexico)

Slovak

Slovenian

Serbian

Thai

Czech

Danish

German

Turkish

Norwegian

Hungarian

Finnish

French(Quebec)

French(France)

Bulgarian

Vietnamese

Hebrew

Polish

Portuguese(Brazil)
[New Orthography Reform supported]
Portuguese(Portugal)
[New Orthography Reform supported]

Malay

Latvian

Lithuanian

Romanian

Russian
Examples (Embedded Devices)
Widely used by many manufacturers who develop Android™ devices, the No. 1 commercial IME embedded in Japanese domestic smartphones. Below are some examples of devices embedded with iWnn IME for Android™.
Smartphones and tablets

Kyocera
Corporation

Sharp

Sony Ericsson

Panasonic Mobile Communications

HTC

LG

Samsung

ZTE

Huawei

Motorola

Lenovo
*This product is not necessarily embedded in all the products.
*In no particular order.
Click for product inquiries and questions
Inquiries
welcome
corporate customer

+81-3-6718-3712

(Japanese language only)




Business hours: 9:00-17:30
(except Saturdays, Sundays and public holidays)
Personnel Division:Life Infrastructure Solution Division UX Solution Department
Shinagawa Front Building 7F, 2-3-13, Konan, Minato-ku, Tokyo 108-0075, Japan
Embedded Wnn Series list
 
Single
clause
conversion
Consecutive
clause
conversion
Dictionary
lookup
Word
registration
Learning
Prediction
conversion
Morphological
analysis
Multi
lingual
Unicode
support
External
data
partnerships
improved
Storage
dictionary
features
 
 
 
 
 
 
 
 
 
 
 
 
 
 
 
 
 
 
 
 
 
 
 
 
 
 
 
Predictive conversion:Provides an API that predicts using 1 API, and supports conversion of consecutive clauses and single paragraphs.(Integrated to this API.)
Storage dictionary function:You can select to enable or disable this feature in the compile options.