Social Solutions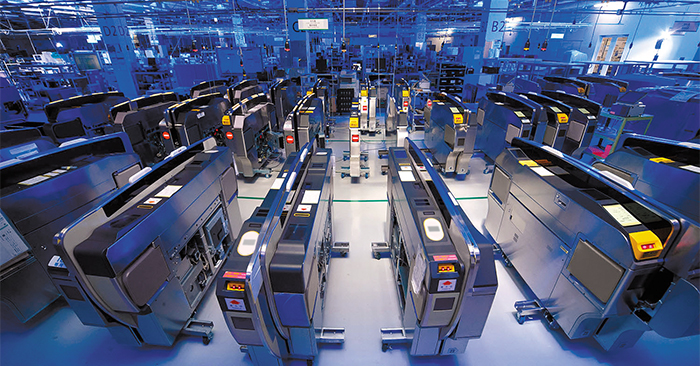 Helping to build a smart society by using our software technology to support and
advance social automation, such as station device systems
Since introducing the world's first automatic ticket gates/ticket vending machines at Hankyu's Kitasenri station in 1967, the OMRON group has continued to support Japanese railway stations through numerous innovations so that they can be used safely and comfortably.
Nowadays its common to see things like automatic ticket gates that allow for smooth passage even during morning and evening rush hours, ticket vending machines that quickly carry out ticket and reservation processing, and automatic checkout machines that can cope with the wide variety of transfers and other commuter situations. Every day our software technology is being used in the OMRON station service equipment that helps keep stations running smoothly.
We will continue contributing through our software technology with the aim of improving convenience for station users and increasing the efficiency of station management operations.
Realizing Station Solutions with Advanced Software Technology
Station service equipment systems including automatic ticket gates, ticket vending machines, checkout machines, and more
Reception processing terminals that streamline the complex tasks of station reception and support station staff
Shared use systems for transportation IC cards that work nationwide
Construction of station operation support systems that assists with the backend operations of stations and head offices
Data aggregators, revenue management servers, operation management systems, various information and guidance systems
Remote monitoring systems responsible for managing the safety of stations
Systems used by stations via ticket gate passing information systems and QR codes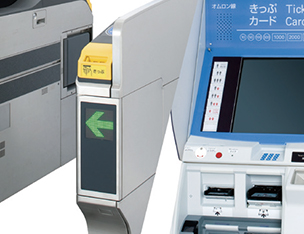 Remote monitoring control systems
Remote monitoring control systems ensure the safety and security of stations and their efficient operation. They allow for safe, secure, and efficient station operations by allowing users to check station status remotely, operate station devices and equipment, and interact with customers smoothly as if they were there.
The foundations of the system are reliability that lets it operate 365 days a year, a user interface that is easy for anyone to use, and a wide range of technologies that connect and utilize various devices. The system will continue to evolve by solving problems to become an integral part of the friendly stations of the future for both customers and station staff.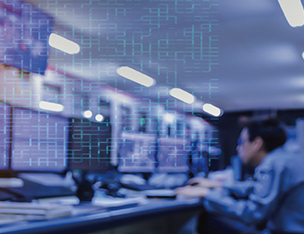 Hotel automation system
We have developed a self check-in terminal (Smare) based on the concept of "easy and complete check-in operated by the customer themselves." These terminals utilize automation technology cultivated through the development of station device systems with a long history and a high domestic market share.
Today, we are continuing to evolve to meet the changing needs of our customers, including a space-saving tabletop terminal dedicated to credit card payments and an app check-in device that allows for room keys to be issued by simply holding up the QR code of an app membership card without the need for screen operation. We will continue to contribute to efficiency and labor-saving in hotel operations, which increasingly face serious labor shortages.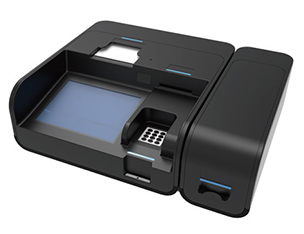 Next Value
Station device systems that support the safe and comfortable use of railroads and stations have continued to evolve, improving customer convenience from tickets to magnetic cards to IC cards. Further improvements in services are expected in the future, such as mechanisms that can use smartphones and QR codes, and seamless fare settlement with other modes of transportation. Through our software technology, we will continue to provide even more value to railroad operators and customers.
We will also continue to refine our software technology to solve social issues for the future, and by evolving social automation, we will work to create a society where everyone can live more safely, securely, and comfortably.
*QR Code is a registered trademark of DENSO WAVE INCORPORATED.