Data Solutions
OMRON supports various IT services through high security technology,
contributing to the realization of a smart society.
IT services provided to customers throughout OMRON's various business fields. We are constantly conducting system monitoring and software development to ensure these IT services continue running without any issues. Additionally, we strongly support our highly public systems, be it construction of computer infrastructure such as cloud or on-premises servers where all steps from planning to system design are carried out to monitor stable operation of the system, or operating the relevant data centers without downtime, 24 hours a day, 365 days a year.
Data Center Operating Service
In order for customers to use the various IT services provided by OMRON safely and securely,
we operate our corresponding data centers 24 hours a day, 365 days a year, to protect customer's important data.
Credit sales: Operation of credit card settlement support systems
Distribution: Operation of point card systems
Railways: Operation of web-based information distribution systems to customers, ticket gate check-in (child safety and protection information) delivery systems
Healthcare: Operation of web-based healthcare equipment measurement data systems
Monitoring: Development and operation of insulation monitoring, leakage monitoring, water surface monitoring and equipment monitoring systems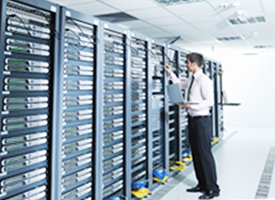 Security Technology
We are introducing management systems for business dealings that require the handling of important data, including acquisition of the P mark and ISMS certification. This allows us to provide systems compliant with international payment card information security standards such as PCI-DSS* (acquisition expected), etc.
*: Credit card industry security standards established to safely handle credit card member data at participating stores and service providers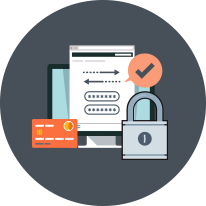 EYES ON THE FUTURE
The amount of data collected and traffic have dramatically increased with the evolution of ICT, and it is time to utilize this big data effectively. On the other hand, as IoT advances and more and more devices become connected to a greater network, risks such as unauthorized operation via the network, malfunctions, and leaks of personal or confidential information also increase.
We will continue research on data rectification algorithms to increase the value of big data and usefulness of AI (artificial intelligence), as well as work on improving high security technology to protect against new risks and threats, supporting the evolution of a smart society.