iWnn eXtension
Multilingual Input Solution with Handwriting Support
Character input technology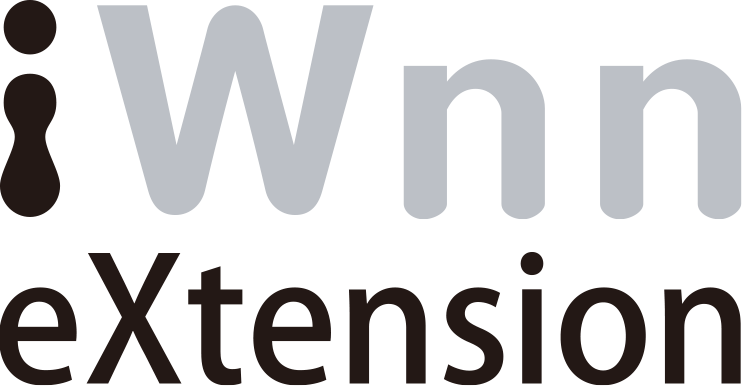 This easy-to-use solution combines the No. 1 predictive
input engine embedded on Android™ devices in Japan
with intuitive handwriting input.
Point

1

Uses a handwriting input method known for recognition accuracy
Point

2

Input that is both intuitive and predictive

Point

3

Support for 40 languages

What is the iWnn eXtension Multilingual Input Solution with Handwriting Support?
iWnn eXtension provides a multilingual input solution that combines, the No. 1 predictive input engine embedded on Android™ devices in Japan, with the Hanvon handwriting recognition engine renowned for its recognition accuracy.
(1) For inputting Chinese characters or foreign text for which the reading is unknown
(2) Instantly displays prediction candidates once one handwritten character is input
(3) Display can be set to prioritize prediction candidates for input fields such as region names or people's names.

(1) Input using handwriting
(2) Displays optimal prediction candidates in the target language input field
Display example of prioritized prediction candidates for each input field
Normal input :
日本 (Japan), 日本人 (Japanese people)...
Region name priority (inputting destination names, etc.) :
日光市 (Nikko City), 日向市 (Hyuga City)...
Person name priority (searching in phone books, etc.) :
日野 (Hino), 日下 (Kusaka)...
Product Features
Feature

1

Handwriting Recognition (Normal)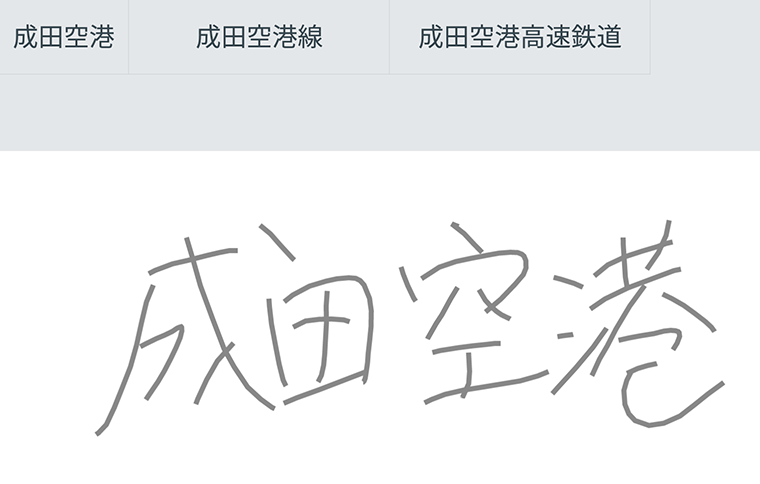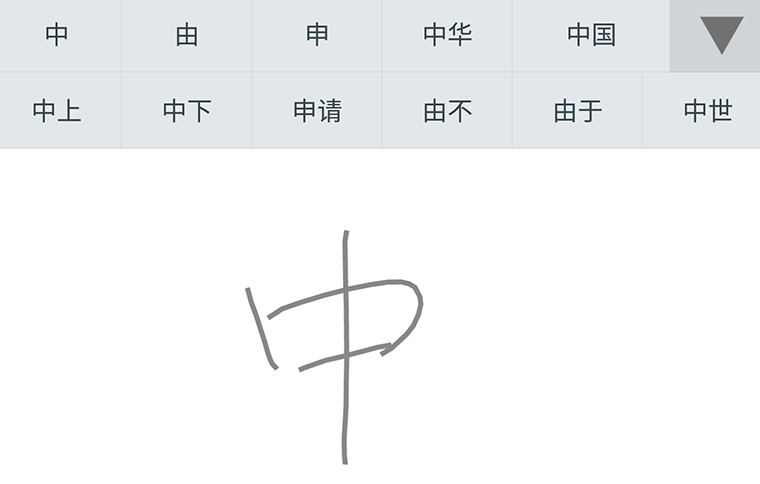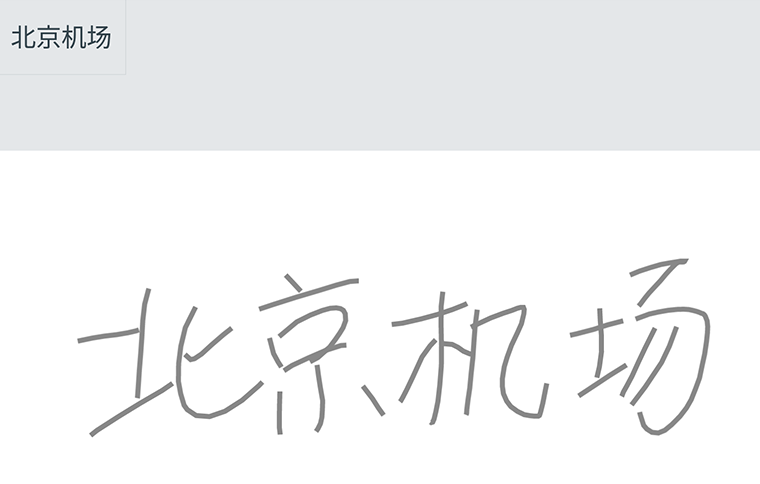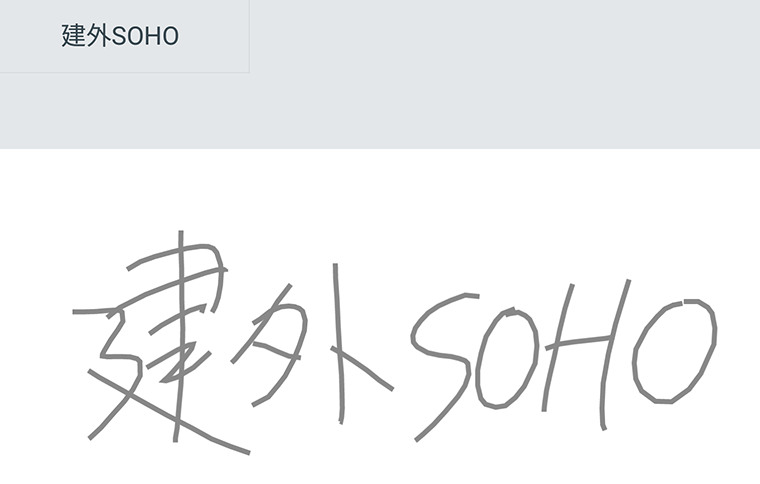 * Multiple character and composite text recognition supported in these languages(As of August 2018) :
Japanese, Chinese (Simplified), Chinese (Traditional), Cantonese (Simplified), Cantonese (Traditional), Korean, English (U.K.), English (U.S.), French (France), French (Canada), German, Spanish, Portuguese (Portugal), Portuguese (Brazil), Italian
Feature

2

Handwriting Recognition (Overwritten Characters)
The highly-accurate recognition function can offer prediction candidates even when the written input overlaps itself.
This is extremely useful for handwriting on devices with small screens.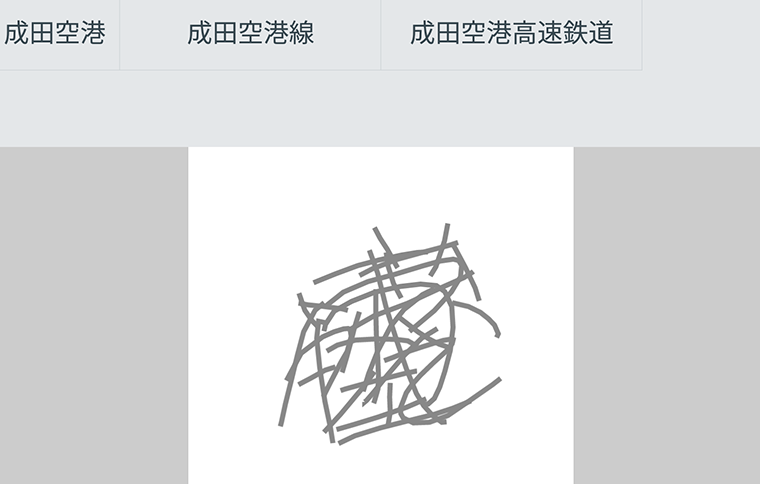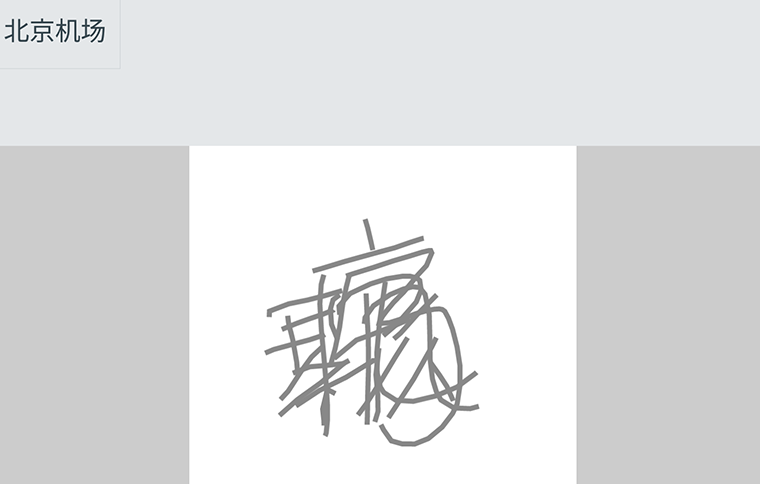 Feature

3

Rough Prediction Function
Special symbols (wildcards) can be used in place of complex characters or characters you can't remember, and prediction candidates will be displayed in which wildcard portion is replaced with suggested characters.
Ex.: When "日本@" (Japan@) is input with @ defined as a handwritten wildcard character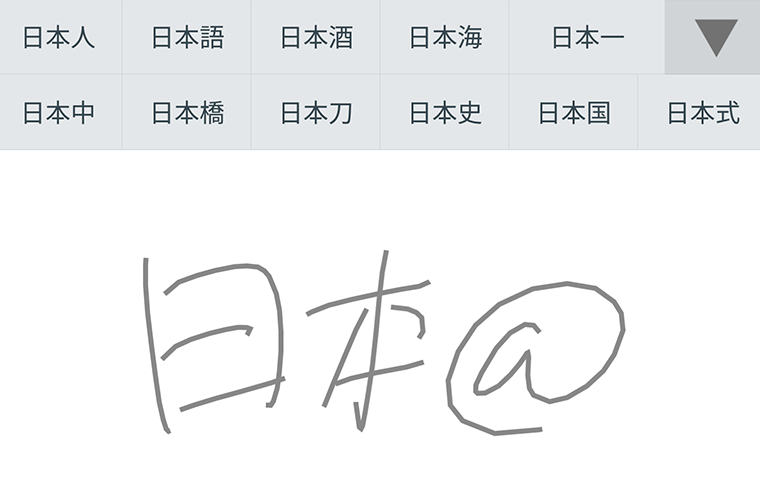 Candidates are displayed by predicting the character that will follow "日本 (Japan)".
日本人 (Japanese person) 日本中 (throughout Japan)
日本語 (Japanese language) 日本橋 (Nihonbashi)
日本酒 (Japanese sake) 日本刀 (Japanese sword)
日本海 (Sea of Japan) 日本国 (Japan)
日本一 (best in Japan) 日本式 (Japanese style), etc.
Feature

4

Supports input in 40 languages!

Multilingual
Handwriting
Japanese

Chinese(Simplified)

Chinese(Traditional)

Cantonese(Traditional)

Cantonese(Simplified)

Korean

English(American)

English(British)

English(Australia)

English(Middle East)

English(India)

Arabic

Italian

Indonesian

Ukrainian

Dutch

Greek

Croatian

Swedish

Spanish(Spain)

Spanish(Mexico)

Slovak

Thai

Czech

Danish

German

Turkish

Norwegian

Hungarian

Finnish

French(Quebec)

French(France)

Bulgarian

Vietnamese

Polish

Portuguese(Brazil)
[New Orthography Reform supported]
Portuguese(Portugal)
[New Orthography Reform supported]

Malay

Romanian

Russian
Swipe
Japanese

English(American)

English(British)

English(Australia)

English(Middle East)

English(India)
Click for product inquiries and questions
Inquiries
welcome
corporate customer

Contact

Please select "Wnn for Embebbed"

+81-3-6718-3712

(Japanese language only)




Business hours: 9:00-17:30
(except Saturdays, Sundays and public holidays)
Personnel Division:Life Infrastructure Solution Division UX Solution Department
Shinagawa Front Building 7F, 2-3-13, Konan, Minato-ku, Tokyo 108-0075, Japan
Embedded Wnn Series list
 
Single
clause
conversion
Consecutive
clause
conversion
Dictionary
lookup
Word
registration
Learning
Prediction
conversion
Morphological
analysis
Multi
lingual
Unicode
support
External
data
partnerships
improved
Storage
dictionary
features
 
 
 
 
 
 
 
 
 
 
 
 
 
 
 
 
 
 
 
 
 
 
 
 
 
 
 
Predictive conversion:Provides an API that predicts using 1 API, and supports conversion of consecutive clauses and single paragraphs.(Integrated to this API.)
Storage dictionary function:You can select to enable or disable this feature in the compile options.